For quarterly event announcements, join Christine's e-newsletter list via the contact page!
"...Talk a Lot, Pick a Little More..."
Crush/Repeat 2021
April 17, 2021
Times: 6:00 pm Gallery Opening
Location: Online!
And now for something completely new and different!
Christine's 31-day prose project "…Talk a Lot, Pick a Little More…" will be featured in the CRUSH/REPEAT online gallery, and the opening night is Saturday, April 17, at 6:00 pm Pacific.
About Christine's work:
When she discovered The Betsy-Tacy Treasury in a Little Free Library, Christine's project immediately changed course. She's constantly untangling the nets of how oppressions separate us, so that she can reconnect with herself and the rest of the world. The subversive captions type-written alongside Lois Lenski's illustrations form a growing collection of things Christine has (un)learned, epiphanies she's realized, experiences she's shared, what she wished to hear as a young person, and her hopes for our collective future.
The Gloomiest Girl in the World
April 23-26, 2020
Times: between naps
Location: On the Boards | Seattle, WA
Christine plays the title character in this commissioned musical adventure for young audiences!
More information here. Stay tuned for the rescheduled debut of Widdle Woo!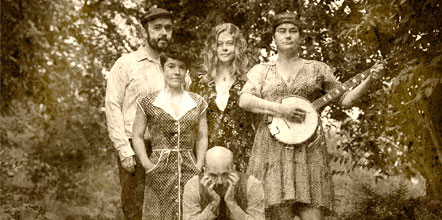 New stories from
The Moonshine Revival Tent
May 22, 2020
Location: NW Folklife Festival 2020
Check the schedule for our stage location for Friday afternoon!
Hold your plans for May 28-31, as well! More local performances to be announced.
Witness the development of new work!
A Captive Song (working title)
May 31, 2020
Location: North Seattle
Watch and hear the progress of Christine's latest full-length script.
Audience feedback welcome in a facilitated Q & A session immediately following.
Stay tuned for performance dates and locations of
THE TWO-STEP
on national and international stages!
⭑⭑⭑⭑⭑ "National treasures…Don't miss the opportunity to see this show,
or any other show featuring Ms. Longé." — AXS.COM
⭑⭑⭑⭑ "Impossible to dislike." — CBC MANITOBA
Clown Lab
How do we authentically connect with one another? What makes each of us funny, vivacious and compelling? Where's a welcoming, liberated playtime that allows for brave exploration of our individuality and creative instincts?
Investigate these questions and more at the monthly Clown Lab workshops in Seattle. No theatrical experience necessary. No red noses (contrary to the featured image). Bring your open hearts and minds to laugh together and explore the mysterious ingredients that tickle our funny bones. Bring movement clothes plus a snack and water bottle, too.
This is a PWYC workshop. Please consider pitching in $10-25 to cover the space rental + facilitator's time for curriculum prep and teaching! Thank you!